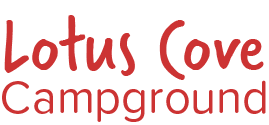 UPDATE MAY 5, 2020
Post Date:
May, 2020
SATUS UPDATE RELATIVE TO VIRUS             May 5, 2020 The FOLLOWING IS IN EFFECT FOR THE LOTUSCOVE CAMPGROUND: The campground is open since we do not have transient campers. The clubhouse, Read More
New Wifi
Post Date:
May, 2020
A new base station for wifi is located at the Clubhouse. Four additional access points have been added. An example of wifi access can be seen near the C147 campsite, Read More
Open campground
Post Date:
May, 2020
As of May 1, 2020 the Lotus Cove Campground is open for all seasonal campers.
Campground Remains Closed
Post Date:
April, 2020
Campground Closure Update April 3, 2020 We now have received a new order from the Ohio Department of Health. Campgrounds, including the Lotus Cove Campground, are closed until May 1, Read More
Camping Fees
Post Date:
March, 2020
Several campers have inquired about adjustments that might be made to the camping fees. We have decided that it is proper to make some adjustments. This is what we will Read More