March Update
It is about that time.  The campgrounds will open on March 26, 2016. (weather permitting)
The Campers' party will be Saturday April 2, 2016.
We have some new campers with us.  You can see them listed on this web site.  Sylvia Warfield is returning to the campgrounds, after an absence of several years.  Sylvia, and her late husband Fred,  first camped on site C33 in 1999.  Seventeen years ago! Welcome Sylvia back when she arrives on C38.
Tom Hoying has been busy building a new bandstand in the park.  The old bandstand has been removed and is being replaced with a nice looking new one. Tom expects to have it completed very shortly.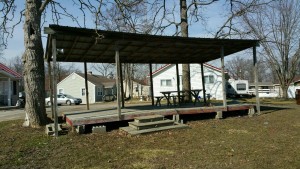 The old bandstand is gone!!  It was just too ugly.
Construction Photos as Tom gets  the job finished.
Did you know that the Oak Tree restaurant has a carry out license from the state liquor department.
Tom says  that he will have available your liquid refreshments at state minimum prices.
Have a good day and we will see you at the party or around the camp.
Ken & Tom