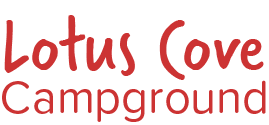 2021 Winter Shutdown Notice: Move to Nov 2nd due to forecast.
Lotus Cove Campgrounds
On Lake Loramie
Manager: Tom Hoying
419-303-2317(cell)
tomhoying1@gmail.com
[DATE()]
                                                    Winter Shut Down
I hope you all had some nice times with family, friends and nature over the summer. We appreciate your business and hope to keep winning you back year over year. As the season closes, I want to address some season ending issues and reminders:
Water Shutdown: We will take the water system out of service on Tuesday November 2, 2021, provided the weather cooperates. If a freeze is forecast before that date, then it will be necessary to do the task at an earlier date. We will advise if that becomes the case.
Site Cleanup: Leaves will fall on your sites that will need to be addressed. Lotus Cove will clean up the common areas, but your help for your specific site is appreciated. If you would like Tom to help on this for a fee, please talk to him directly
Winterization of Campers: This needs to be done to avoid water damage. Tom is willing to do this for a fee so just let him know. I also gave reference to two other people/companies that can do this as well.
Don't Let the Meter Run: Last year we did a meter read on Dec 31st before the transaction between my dad and I was complete for a final meter read. At that time, we identified 2 really high usage sites. Both of those sites had left space heaters on for nearly 2 months resulting in very high bills. Avoid this by making sure all of your items are off or unplugged. We will do a meter read in the middle of Nov to make sure no one is surprised in the spring when we do a normal billable read. If you have high usage from the last reading, you will be notified and perhaps billed if very high. The campgrounds get billed every month so off-season usage is financially carried by LCC (Lotus Cove Campground),
Site Cleanup: Take a chance to clean things up this fall. In an effort to raise the bar for campground appeal, LCC plans to be critical on site maintenance and "junk" just laying around. I think a good cleanup will be beneficial to the majority. Please don't be surprised and get ahead of the curve by doing some of this in the off season.
That's it. Thanks again a look forward to 2022!!
Thanks
Mark and Tom