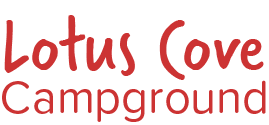 December 14, 2016
Lotus Cove News Letter
Dec. 2016
    Merry Christmas & Happy New Years
We wanted to remind everyone of the Winter get together held at The Oak Tree on January 14th @ 6:00 pm. Hope to see you all there.
An update on the New Campgrounds. It is moving along and on schedule. Roads are in, water, sewer & electric are completed. We have 25 of the 56 sites rented out and looking forward to the new campers joining us next season. Everything in the existing camp grounds is going well. We just finished up cutting down some of the bigger dead trees around the campgrounds. There were some dead trees that were leaning into the channel that some of you were concerned with on the north side, those also were removed. Including the big oak tree on The Oak Tree Deck. It was taken down in 3 sections each section weighing over 6000 lbs.
Some New News is: Don & Doris Swiger (lot 15), has sold their camper to Patrich & Ronda Cooper. And Grant Snead (lot 8), has also sold his camper to Gerard Swartztraker. We will really miss these people but has promised to come back to visit us. But look forward to getting to know the new campers.
Anyone with any new news please feel free to email them to us at tomhoying1@gmail.com.
Hope this finds you all well,
Tom & Claudette