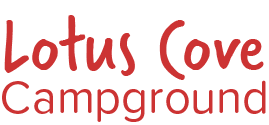 Activities Update
Post Date:
August, 2019
Sat Aug 31st Kids scavenger hunt 1pm to 3pm Sat Aug 31st Band on stage Small Town Brothers 8pm to 11pm Sat sept 7th Childrens fishing derby lot 69 next to club house. 10am to 12 noon Sat Sept 7th Hog roast  bring covered dish.  Club house 5pm Sat Sept 14th  Campers Activities meeting  at club house 2pm.  So far for October .  Oct 12th trick or treat 6pm to 7pm  Costume judging at club house 7:30pm prizes.   campsite judging 5pm to 6pm $50.00 first prize $25.00 2nd prize
Campers' Activity Fund Report
Post Date:
August, 2019
Jim Cull (C1) reports the following for the Activity Fund. As of August 10, 22019 Balance July 6, 2019 $1470.01 Income Showdown $146 Expenses Corn for chicken bbq $36 Popcorn and cleaning popper $165 Bouncy House $195.05 Total Expense $396.05 Balance Aug 10, 2019 $1,221.96
Water Water
Post Date:
June, 2019
Yes, it is raining at Lotus Cove Campground and the lake level is up.   It was high yesterday and then it rained some more last night.  It is up another 4″ this morning.  Tom has checked all boats and their tieups so as to avoid dock or boat damage.   When the lake is rising and the boats are tied tight the dock can be pulled up with boat as the water gets higher.  Tom has made the rounds and has adjusted the ropes as needed.   I can't remember ever having this much rain as we Read More
Scheduled Events
Post Date:
June, 2019
Lotus Cove Upcoming Activities July 6th: Starting at 9am the Bouncy House will be available for all the kids to come & enjoy all day ( all children under 12 need to be accompanied by an adult). This will be located on the south side of the channel close to lot #69, To big to miss. ( if anyone is interested in watching over the Bouncy House for the children there will be a sign up sheet in the Club House.) Fireworks will be at dark most likely closer to 9:30- 10:00. We have Read More
May 31, 2019 NEWS
Post Date:
May, 2019
Two things that I want to convey to you. Llisa Overby (C58) has told me that Tim and Brenda Brandt (C36) lost everything at their home due to the tornado that hit the Dayton Ludlaw Falls area. Our prayers and thoughts are with them in this stressful time. You will also see, if you arrive at the campground, that the Oak Tree Resturant is closed until June 13th. It is my understanding that it will reopen on June 13th under new management.Tom Hoying the campground manager can be reached by phone at 419 303 2317.