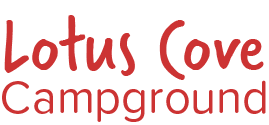 2020 Campers' party
Post Date:
February, 2020
                                                   LOTUS COVE CAMPGROUNDS You're invited! The annual campers' party for Lotus Cove Campgrounds will be held at the Minster Machine Union Hall, 180 West 5th. Street, Minster, Ohio (corner of Cleveland and Fifth St.) on Saturday, April 4, 2020. Dinner will be served at approximately 6:00 P.M We hope you can join us for an evening of fun; there will be plenty of food and liquid refreshments, as well as door prizes. Included, with this invitation, are two tickets. Please put your name and campsite number on the reverse side and put them Read More
Winterization of Campgrounds
Post Date:
October, 2019
Low temperature forecast for Thursday October 31 is a cold 24 degrees. We will winterize the water system on Thursday. The next several days after Thursday also have a forecast of below freezing night time temperatures. You should make sure your unit is prepared for the freezing temperatures.
October Update and 2020 Season Reservations
Post Date:
October, 2019
Yes we have some pictures of the winners in our Halloween decorations and costume contest. For decorations Carl Frysinger (C118) was awarded the first place prize. Congratulations to the winners and a thank you to all the participants. James Cull (C1) reported on the Campers' activity fund as follows: Balance 9/14/2019 $926.76 Income Braunm Donation for fishing derby $200 Income campers' donations $820 Expenses $0 Balance 10/12/2019 $1,946.76 A question, about the creation of a new campsite in the campgrounds has been put forth. No new campsite has been added to the campgrounds since the Read More
Davis Winterizing service
Post Date:
September, 2019
For your information. You may want this service. Lotus Cove is not directly involved nor do we receive a fee from this service. They ask that you contact them at 419 336 7141 by October 1, 2019. See the October calendar for flyer.
Dek Kramer wins scavenger hunt contest!
Post Date:
September, 2019